This is a short tale about the Frederick Lanchester collection held by Coventry University Archives, to show how documents survive (or not), and how archivists and others care for them and make them available for research, to tell stories, and to help make sense of the past.
In the beginning – Frederick Lanchester's lifetime
The life and work of Frederick Lanchester was an extraordinary one and more details can be found on the Lanchester Interactive Archive website, and our online catalogue. We know about his achievements because he was recognised during and after his lifetime, but the real insights into the way he thought and how he tackled problems can come from his correspondence with colleagues, friends and family, and his sketchbooks and notes.
His papers also describe how material was lost or destroyed during his lifetime (including some of the early Lanchester cars from the 1900s), especially because of bombing during the Second World War.
Into the almost swinging '60s
The first batch of Lanchester material that was associated with the university was donated by Fred's widow Dorothea to the Lanchester College of Technology a few months after she and Fred's brother George attended its official opening in May 1961.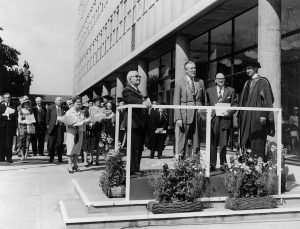 The material had already been looked at before this date by Patrick Kingsford for research into his book on Fred called FW Lanchester – the life of an engineer and published in 1960.
A list of the items was created so that a typed finding aid and index cards were available to those interested in looking at the collection.
Next steps – the 1980s and 1990s
Twenty years later more Lanchester material was purchased at auction in December 1982 by the former Lanchester Polytechnic College Librarian. It was thought to be the property of George Lanchester. This included further correspondence and papers, plus sketchbooks. Additional items including pocket notebooks were then bequeathed by George's second wife 'Stevie' (Mary Stevenson) and came via George's daughter-in-law Elaine (from his first marriage) and Lanchester enthusiast and historian Chris Clark (more on him later).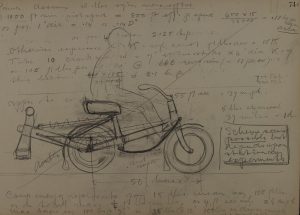 Other material came in from Lanchester family members and Chris Clark over the years, and although the university was ensuring that the Lanchester material was safe, it was only able to actively work on the collection using external funding.
The 21st century – a brave new world of digitisation and augmented reality
Chris Clark and the librarians who looked after the Lanchester material continued to do their best to store and promote the collection, but a major opportunity came in 2015 when the university was successful in getting National Lottery funding to digitise the collection. A space was also created in the university library (the Frederick Lanchester building) that used a model of a Lanchester car specially built by Chris Clark, plus information panels, display items, and augmented reality tablets, to bring the collection alive.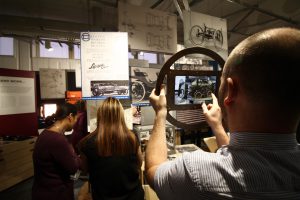 2020 and the future
So we've come from the Lanchester collection being kept in Fred's house, then in an office in the university library, to being housed in proper archive storage. There has been a move from handwritten to typed lists, then to online catalogues that conform to archives standards and allow digitised material to be downloaded. The collection has also expanded from material relating just to Fred to items about other members of the Lanchester family. So the archives now include a collection of walking sticks made by George Lanchester, and some marionettes used by Fred and George's nephew, the puppeteer Waldo Lanchester.
We're also keeping up with new technology – the latest innovation is the use of virtual reality for visitors to the Lanchester space in the library, or for when Lanchester Interactive Archive (LIA) staff go out to visit schools, community groups, and others who are interested in the Lanchester story.
To help with this outreach, the LIA staff can literally hit the road, as the university has recently bought a 1932 Lanchester car that has had only two previous owners. It will be used for promotional activities, and hopefully feature heavily in Coventry 2021 City of Culture events.