Here is a brief summary of some of the new donations the university has received this year to add to its archives. This gives an indication of the types of material we receive and the formats they come in.
Publications
Examples include leaflets, flyers, bookmarks and other promotional items for events being held at the Lanchester Library; a brochure highlighting the university's conference facilities; Faculty of Health & Life Sciences brochures (collected during a tour of the new School of Health & Life Sciences building in Whitefriars); and material from the School of the Built Environment (e.g. proceedings of conferences).
Photographs
New donations of photographs (physical and digital) include images from the university's Estates department showing various university sites and locations. These are particularly useful for seeing buildings being built or refurbished. There are also 2012 images taken in the library for student induction literature, and aerial photos shot from a helicopter showing student building TheHub being built in 2009 and 2010.
We also received large framed panoramic views of the Coventry skyline and buildings which were displayed on the walls of the Faculty of Health & Life Sciences James Starley building in Cox Street, Coventry – which is being demolished soon.
Film & video
Film and video footage includes the commemorative film of the official opening of the new library in September 2001 by Princess Anne; induction videos showing students how to use the library; copies of television broadcasts such as an Open University programme on military strategy (formulated by Frederick Lanchester); and a BBC 'Local Heroes' programme from 1996 on Frederick Lanchester and his car design. There is also 1904 footage of a Lanchester car being driven up steps (thought to be one of the first car marketing films to be made in the UK).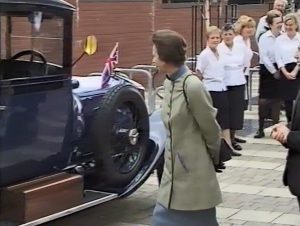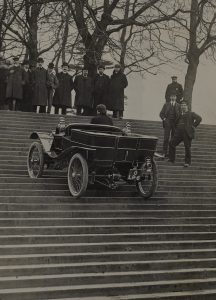 Objects
We have a few Lanchester lapel badges made by the Lanchester & Daimler Owners' Club for wearing at 'Lanchester Day' on 29 April 1984 when Lanchester Polytechnic's library was named the Lanchester library. The day also included an exhibition, and Lanchester cars on show. Other new donations include a video camera, which means we can play small video camera cassettes used to record lectures and events); and Investors In People award plaques and certificates that used to be on the library walls.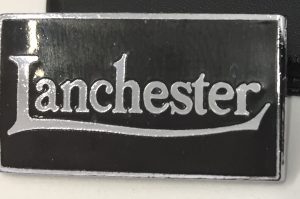 If you have anything you would like to donate to the archives, please get in touch via our contacts page.